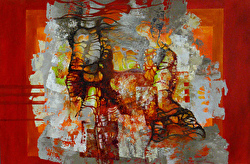 "The Tango, From Inside Out" 24x36x2
Years ago, while attending a workshop instructed by a well known artist, the class was talking about some tips on how to one's artwork accepted into juried shows. One statement from the instructor I will never forget, was "Paint it red and paint it big." Accordingly, this would potentially increase my probablity of being accepted into coveted art shows. Let me assure you, that this is no guarantee, but is does remind me that drama does attract more attention.
Because February is known as the red month, I thought I would try the "paint it red and paint it big," in my style of abstraction. Let me know your reactions by clicking here.
It has been awhile since I have shown you the progressive stages of a painting, so the below images show you how this painting evolved and my inner thoughts as I created it.
"The Tango, From Inside Out," was a challenge from the start. I had an idea in my mind's eye of what I wanted to achieve, but I was not sure how to execute it. As I mentioned in my previous newsletter, the content I want to convey with my abstracts, is that life is full of layers and differences, but they can co-exist. Color harmony is always a part of my work as well as intrigue. For this painting, nterjecting the perceptual opposite of the red color I used - a bright lime green - was in my plan.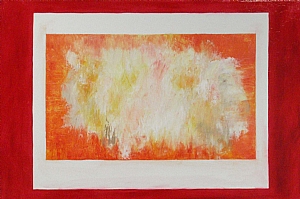 1. After texturing my 24 x 36 canvas with three layers of gesso using a large palette knife (which takes a couple of days to allow the gesso to dry), the above shows you my first layer of paint. This first layer had to dry before I could continue. By the way, I draw and free hand the straight edges.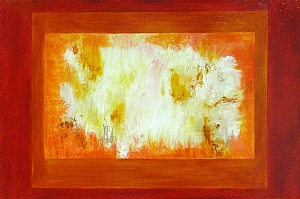 2. The middle color of orange was then applied. I made sure it was the same value (same darkness) of the outlining red.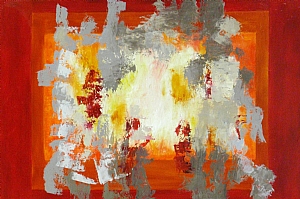 3. I must admit, that I was intimidated by my first layers of paint, and it took me a few days before I began applying, with a palette knife, these next colors you see - the greys and a few reds.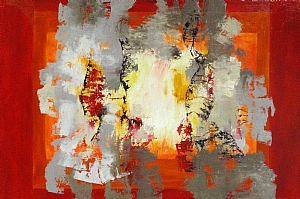 4. Again, with a palette knife, I began applying the darkest darks that were to be in the painting. I am primarially using the edge of the palette knife to get this effect.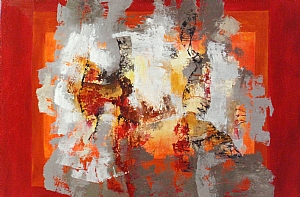 5. At this point, I noticed that I had been leaving the middle of the painting alone - as if I had two paintings going on at the same time. Eventually, I figured out how to bridge the gap. The winding dark brown strand on the right is reminding me of a spinal chord for some reason. Executing how to capture an inner glow and conveying layers is still not quite clear to me.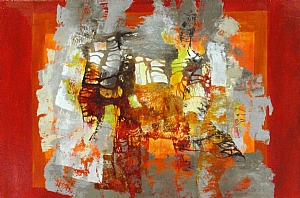 6. Finally, I just dove in with a brush and began interweaving lines on top of the previous layers of paint. You can see the lime green has been added and I have also begun to articulate some geometric squares. At this stage, I go back and forth between a palette knife and brushes. The left side edge of the painting is bugging me - where the whites meet the red - and I am not sure what to do. I am liking the painting and I am now afraid I am going to ruin it. Life as an artist does cause us to shake in our boots. :)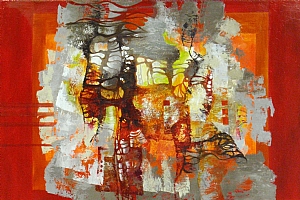 7. I printed the prvious image (step 6) off of my printer and sketched in the parallel lines and then did the same on the painting that you see on the left here in step 7. The composition of the painting needed a few more obvious geometric forms. Note the 3 small rectangles to the center right. Small organic shapes have been painted with white, allowed to dry, then I calmed the white down with appropriate tones and colors.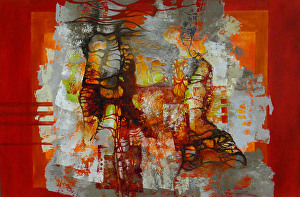 8. "The Tango, From Inside Out," completed with the tiny centered red square gone because it was a bulls-eye. I subdued the bright greens and did a number of other finishing touches.
What do you see in the painting? People have told me that they see very different things, which is fun to hear.

Comment on or Share this Article →
---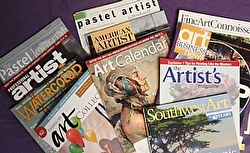 Various art magazines I have read over the years
Yesterday, I was quietly reading through a current art magazine while eating alone in a cozy delicatessen, and a stranger comes up and asks me, "Is that Southwest Art?" I responded affirmative, and then she inquired, "Do you think artists should paint to sell or paint what they want to paint?"
Dumbfounded by this question, it got me wondering how a simple art magazine could motivate someone to approach me and ask one of those questions that will haunt artists for eternity. After we both admitted that we were painters, she then mentioned that she thought SW Art was a good place to learn about what was selling in the marketplace. I had to admit, that that was not why I was reading the magazine.
After she left to attend to her sandwich, I had to reflect upon my reasons for continuing to allow art magazines to fill up my mail box. What are your reasons? Here are some of mine:
To keep informed of what other artists are creating
To read the life stories of other artists, their motivations, etc.
To read the words that writers and artists use in describing their work
For inspiration
For color ideas
For researching potential galleries
To find out about exhibitions to attend as well as to apply
To learn how artists are using the Internet and social media
To learn about various art business topics
To attempt to stay current on various topics
Earlier in my career, I subscribed to artist magazines that were important for learning technical tips, such as:
Preparing the substrate for a particular medium (watercolor, pastel, oil, etc.)
Picking up application tips
Studio information
Instruction for specific subject matter, such as water, clouds, trees, etc.
Juried shows
Art organizations
Art supplies
Etcetera, etcetera,
Having a variety of magazines has been important to me, be it one that focuses on a region of the country or on collectors or techniques or trends or business topics. I always glean something, even if it is just a quick scan.
Other reasons I peruse art magazines:
To evaluate my artwork in comparison to others
To follow other artists
To learn how I might be a featured artist in the future
To attract fellow artists to talk to me in a restaurant...??
What would you add to the list? Why to art magazines pile up in your studio/office? :) I am sure I have missed several other reasons. Are there non-art magazines that you find helpful/interesting? Why do non-artists read these magazines?
P.S. By the way, I did give her my opinion on what should motivate an artist to paint, but I will leave that for a later discussion.
Comment on or Share this Article →
---
Last week I learned that my older, and only, sister is in the fourth stage of liver cancer (the survival rate of liver cancer is extremely low). This was unexpected news. Meanwhile, I had been in an intense stage of painting, creativity, challenging myself with my visual message, pushing my skills, writing, increasing my visibility on the Internet, re-designing my blog, etc. In other words, I was humming along in my world, but a STOP SIGN popped up suddenly, and I was in an emotional fog. These events happen to all of us unexpectedly. How do we artists continue during these times? Can you paint? Be creative?
Pardon a detour: Why am I telling this story? Because I am inspired by Brene Brown's words I watched last Friday, in a TED video, entitled, "Embracing Vulnerability," (a 20 minute video I strongly recommend.) During her talk, she states, "Vulnerability is the birthplace of joy, creativity, belonging and love." My interpretation - to be a whole and effective artist/person, I needed to be vulnerable. Pretending or denying my sister's illness would not be emotionally healthy. Hence, I decided I would accept her challenge and allow myself to be vulnerable about my grieving process and to share what I have learned regarding creativity/artmaking when an emotional crisis crosses my path.
I could not paint. Nada, nothing would flow. There are 3 paintings at critical stages, and I could not figure out where or what to paint on any of them. I even tried switching the paintings on my easel, but nothing stirred and I was frustrated.
Knowing that I have a business to run, a job, just as I did when I worked for a corporation and I knew I had to keep working. Important decision making is difficult, so I have been doing things such as: cleaning, sorting, signing & varnishing paintings, updating my data bases, cleaning, painting edges of wrapped canvases, tossing, cleaning, prepping canvases, re-arranging the studio, etc., and researching liver cancer.
All of these tasks allowed me to feel my sadness and deep sense of helplessness, for the tears to flow and to take longer walks with my dog. After a couple of days, I was compassionate with myself and stopped expecting any meaningful creativity. These were not activities of denial, but non-brain tasks that permitted me to still think about my sister, our relationship and her adult children (and to make phone calls) and wallow in my emotional fog. However, I missed a lot of other events during this time - such as sending out Valentine's cards, not listening well to my husband, poor concentration, eating too much chocolate - but I believe that being vulnerable was and is necessary. To help with the processing of my sister's pending death (her health otherwise is not good which adds to the poor prognosis), I am going to collect photos of her and create a montage celebrating her life. I know this will be cathartic for me and her children may like it as well.
What happens to your creativity and artmaking when an emotional crisis comes into your life? Some artists paint or create about these emotions, but that has never been satisfying for me. Is it for you? Do you allow yourself to be vulnerable during these times of emotional upheavel?
PS I want to thank Beth Hayden, a blogging consultant, for sharing the Brene Brown link in her newsletter.

Comment on or Share this Article →
---