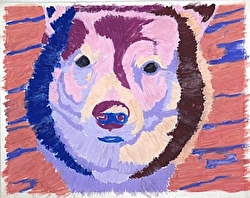 Rubbing alcohol dissolves pastel
This next step in the artistic process is relatively easy. After establishing the large areas of the portrait, I need to "melt" or dissolve the applied pastel into the painting surface (or sometimes called substrate). With an old round watercolor brush I gently apply rubbing alcohol to each color making sure that I maintain the integrity of each color. The colors could be mixed or blended but in many areas they would turn into mud and I like to keep my underpainting clean.

The first colors I dissolve are usually the light colors and then I progress to the darker colors. If the alcohol mixture gets to dark and muddy I will replace it with clean liquid. I just use the cheap rubbing alcohol you can get at any drug or grocery store. It dries very quickly and then I begin to apply my second layer of paste.

Something is wrong with this drawing and I am not sure what it is? Do you?

Comment on or Share this Article →
---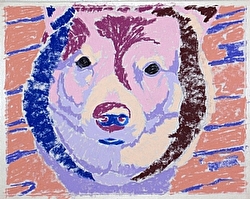 1st layer of pastel
Where to begin when dealing with a very round design? Dylan is a tri-colored Corgi and when I captured him in this photograph, I was not aware of how round he would look. I decided to go ahead despite the art "rule" that says to avoid a large round shape and especially when it is essentially in the middle of the painting. I did break the circle a little by taking the top of his head further up the page and tilting him slightly. His nose, the prominent feature, is off center as well.

After a sketch and tranferring that on pastel paper, I layered in the large shapes of the painting. As I usually do, the warm colors indicate where the light is hitting him and the cool colors indicate the opposite. All the books tell me to paint the eyes black first. I do not like to use black, but since I am practicing I decided to follow what I had been reading.

Does this first step make sense to you?

...to be continued.

Comment on or Share this Article →
---