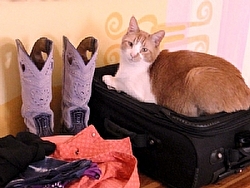 "Paynter" ready to hit the road for Estes Park
Recently I shifted my artistic emphasis to that of offering commissions. I call them "Memory Portraits," because I want to capture your treasured memory on canvas. Non-commissioned artworks will continue to be created and made available for sale, but the emotional satisfaction of successfully completing a commission has called me to re-direct my focus & energies. In addition, commissions are an invigorating, positive, collaborative process. I love working with people in translating their story into a painting they can have and share for a lifetime.
Currently, I am taking a great 4-week class that is teaching me how to create a more compelling blog for you, the reader, and many other aspects about the blogosphere. (It's really stretching my brain & I will be better for it.)
Today's assignment requests that I generate 20 potential ideas that I could write about on my blog. When I brainstorm, I often put the idea into a question. Here are several and in no particular order:

>What is a commissioned painting?
>Why would I want one?
>What is the process?
>How do I choose an artist to work with?
>Where do I find one? I've never talked to an artist.
>Is the commission process different for every artist?
>Do I deserve a commissioned painting?
>I don't know anything about art, therefore commissioning one is scary.
>How do I choose the image I want painted?
>How do I know that I will like the artist?
>What if I don't like the painting?
>Aren't commissioned paintings only for the rich & famous?
>Do artists guarantee their work?
>What is a palette knife?
>Why is the surface of the painting shiny?
>Color scares me, how I do I talk to an artist about color?
>How do I frame it?
>How do I determine the best size?
>Can it be a gift to someone?
Did I make 20? Your suggestions for subjects you would like me to write about are welcome. Please let me know.
And why a picture of my cat Paynter on this blog? Well, I could not resist. One of our instructors Alyson Stanfield, mentioned in today's lesson that images we put on our blog should be relevant to our blog's content 95% of the time. She admitted that she sometimes digresses and includes photos of her cat on her blog. Since I am packing to take another class from Alyson, and it is in Estes Park, I could not resist taking this photo of Paynter telling me that is wants to meet Alyson in person!
Comment on or Share this Article →
---
---
---
---
---
---
---
---
---
---
---
---
---
---