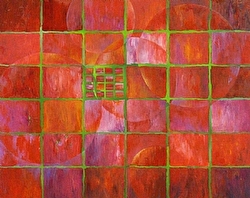 Connecting the Reds
Figuring out how I was going to connect the red grids took some time. As I mentioned previously, I printed off the image and used that to experiment with some ideas. I decided that subtle or allusive circles/globes would do the trick. An odd number, which is always the best choice in a composition, of five circles were drawn on the dry painting with a pastel pencil. Slowly I began introducing the circles and I liked the effect!

This entire painting taught me a lot about values with the red color. As I painted the circles, I was careful to not let the round shape take dominance but for the viewer to "find" them and perhaps as they look at the painting they will find more circles in the background?

A title for this painting is dumb founding me. Not sure what it should be. Usually I have a title by this time in the painting process. Any ideas?

How do you like the addition of the allusive circles?

...to be continued.

Comment on or Share this Article →
---
---
---
---
---