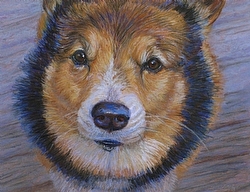 "Dylan the Tri-Colored Corgi" - 11x14 pastel
Dylan did not get a nose job, but I sure had fun painting him. Corgi dog owners may disapprove of the pug-like nose and I hope they understand that I am new at painting dogs and understanding what the camera lens can do. As I indicated in previous posts, his nose should be much more pointed.

One of my challenges in finishing Dylan was softening the edges between the fur colors so that the stripes were not too strong. I think they could be softened even more, what do you think? By softening his fur all over, his demeanor also softened. The eyes are meant to give that pleading look and I even got in his drool! My goal was to portray him as if he is saying, "Mom, can I have my treat now?"

Now I am beginning to wonder what it would be like to paint a Corgi with oil paints? Hmmm, do you think I should try oils or stick with pastels?

Thank you for your interest in Dylan and my painting process.

Comment on or Share this Article →
---
---
---
---
---
---