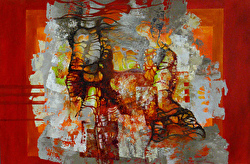 "The Tango, From Inside Out" 24x36x2
Years ago, while attending a workshop instructed by a well known artist, the class was talking about some tips on how to one's artwork accepted into juried shows. One statement from the instructor I will never forget, was "Paint it red and paint it big." Accordingly, this would potentially increase my probablity of being accepted into coveted art shows. Let me assure you, that this is no guarantee, but is does remind me that drama does attract more attention.
Because February is known as the red month, I thought I would try the "paint it red and paint it big," in my style of abstraction. Let me know your reactions by clicking here.
It has been awhile since I have shown you the progressive stages of a painting, so the below images show you how this painting evolved and my inner thoughts as I created it.
"The Tango, From Inside Out," was a challenge from the start. I had an idea in my mind's eye of what I wanted to achieve, but I was not sure how to execute it. As I mentioned in my previous newsletter, the content I want to convey with my abstracts, is that life is full of layers and differences, but they can co-exist. Color harmony is always a part of my work as well as intrigue. For this painting, nterjecting the perceptual opposite of the red color I used - a bright lime green - was in my plan.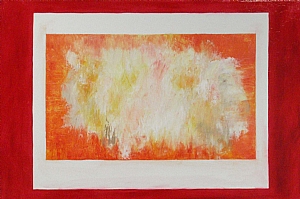 1. After texturing my 24 x 36 canvas with three layers of gesso using a large palette knife (which takes a couple of days to allow the gesso to dry), the above shows you my first layer of paint. This first layer had to dry before I could continue. By the way, I draw and free hand the straight edges.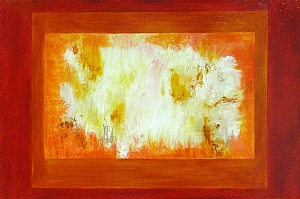 2. The middle color of orange was then applied. I made sure it was the same value (same darkness) of the outlining red.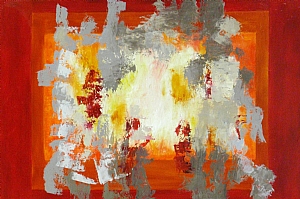 3. I must admit, that I was intimidated by my first layers of paint, and it took me a few days before I began applying, with a palette knife, these next colors you see - the greys and a few reds.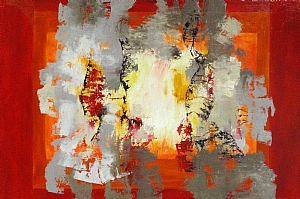 4. Again, with a palette knife, I began applying the darkest darks that were to be in the painting. I am primarially using the edge of the palette knife to get this effect.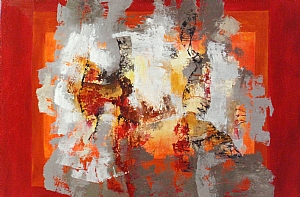 5. At this point, I noticed that I had been leaving the middle of the painting alone - as if I had two paintings going on at the same time. Eventually, I figured out how to bridge the gap. The winding dark brown strand on the right is reminding me of a spinal chord for some reason. Executing how to capture an inner glow and conveying layers is still not quite clear to me.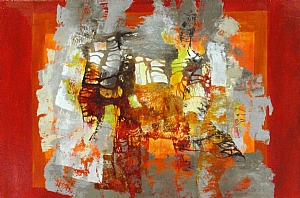 6. Finally, I just dove in with a brush and began interweaving lines on top of the previous layers of paint. You can see the lime green has been added and I have also begun to articulate some geometric squares. At this stage, I go back and forth between a palette knife and brushes. The left side edge of the painting is bugging me - where the whites meet the red - and I am not sure what to do. I am liking the painting and I am now afraid I am going to ruin it. Life as an artist does cause us to shake in our boots. :)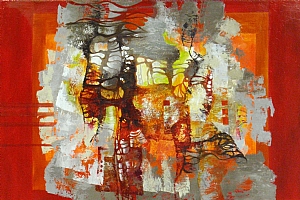 7. I printed the prvious image (step 6) off of my printer and sketched in the parallel lines and then did the same on the painting that you see on the left here in step 7. The composition of the painting needed a few more obvious geometric forms. Note the 3 small rectangles to the center right. Small organic shapes have been painted with white, allowed to dry, then I calmed the white down with appropriate tones and colors.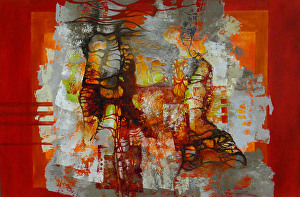 8. "The Tango, From Inside Out," completed with the tiny centered red square gone because it was a bulls-eye. I subdued the bright greens and did a number of other finishing touches.
What do you see in the painting? People have told me that they see very different things, which is fun to hear.

Comment on or Share this Article →
---