« Who am I Writing for? | Main | A Butterfly in Pieces »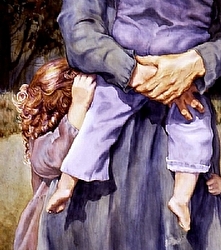 "Too Many Too Soon" - from my series.
Recently, I flipped on the TV remote to watch a portion of the TV show "American Idol," of which I am an intermittent viewer. Despite the average singing (my opinion) I was witnessing, something kept me fixated to the TV. It was the judges' feedback that compelled me to stay tuned. After about the third contestant, I finally "heard" what Judge Randy was saying. His repeated criticism was, "Your song and performance is too safe." At first, I totally agreed and then I realized these are just kids, but the real Ah-ha! came when I realized that that is exactly what I have been doing with my landscapes. What he was saying applied to me.
In the art world, we are constantly told to improve our technique and to strive towards creating the highest quality of work we can produce. (Those are always good reminders.) The other mantra we hear is to create work from the heart that will make our paintings stand out from the competition. Allowing Randy's message to penetrate my being caused me to pause, reflect and question.

Upon reflection, I remembered and then gave myself some credit, that I have created "unsafe" works in the past. The large body of work I created commemorating 19th-Century women (entitled No Time for Idle Hands) was risky and stood out, as well as my surrealistic paintings of the past. Then I realized that those intense 6-7 years of painting the hands of 19th-Century to tell their visual story, led me to seek harmony and nature for solace. My subject changed to something that was not risky, but my visual voice also seemed to be too "safe," because my landscape paintings do not strongly stand out from the competition. I know that I have the capability to create compelling paintings, but I am not yet there.
What is a safe painting? A safe painting is no longer exciting to view as evident when viewers keep walking by at a show or gallery, or they glance and just move on. Nothing is holding them there, be it design, color, subject, emotion, or composition. An unsafe painting is conveyed only when the artist is willing to open herself to the vision she wants to tell and to dig deep to find her inner passion that feeds her. My personal discovery is that I do have that passion and vision, but I have not yet acquired the higher level skills to satisfy my minds eye, hence to cause more viewers to stop in their tracks and want to 'finish' the painting. Time to get back to work!

How would you define unsafe landscape paintings?
Topics:
Homework for Blogging Class
---
---
Comments
11 Responses to What I Learned From "American Idol!"
Marge Bennett
via web49 months ago
Hi Carol,
In my mind an unsafe landscape painting is like an unsafe life, risky and edgy and exciting. We can all recognize one when we see it. Most of us are happy to make it once in a while.
I loved your hands series. Those images evoke so many thoughts and memories. Thanks.
Thanks too for taking time to leave a comment on my blog. You are the first. It feels glorious.
We must talk about Costa Rica but not just now. My mind is turning to jelly. To sleep. Marge